What is WordPress?
WordPress is an online, open source website creation tool. But generally speaking, it's probably the easiest and most powerful blogging and website content management system (or CMS) in existence today. It is still by far the most used CMS, with 59.4% market share. Also on a daily basis, there are over 500 to 600 websites being created on WordPress. We believe WordPress Development is the future of creating powerful Website. Vicky Verma and his WordPress Freelancer Pune team will provide you with best WordPress Development Services in Pune. Most of the best freelance WordPress developers in pune has also started following WordPress.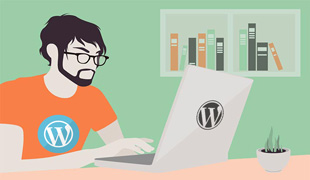 Why we Use WordPress?
The main benefit of WordPress is free to install, deploy, and upgrade. Thousands of plugins and templates power's a flexible and simple interface, which reduces cost and deployment time.
There are five best reasons why we use WordPress:
It's the most popular CMS in the world

It holds the largest market share in the CMS market. Many users and top freelance WordPress Developers in Pune are already familiar with this CMS due to its rising popularity. And it also requires less staff training when building a new site.

WordPress is secure and open source with room for expansion

WordPress can be self-hosted so there are no cost associated with downloading, installing, and upgrading. There are more than 20,000 WordPress plugins (often free) available to install such as slideshows, contact form, SEO optimization, etc.which can be used by any user or any of the Freelance WordPress developer.

WordPress is highly customizable CMS

WordPress is popular because it meets the demand of many users and developers with its flexible framework to allow designers to create and modify layouts and applications with ease and allows to provide best wordpress development services

WordPress has Lower setup and maintenance cost

According to statistics, WordPress incurs less setup, customization, and maintenance cost in comparison to other Open Source CMS such as Drupal and Joomla. So many wordpress freelancer in Pune or WordPress developers in Pune prefer WordPress over other CMS
Who should use WordPress Development?
The must known fact about WordPress is that it is the largest content management platform.
The WordPress is used by number of sectors as follows:
School
Colleges
For Creating Blogs
For Creating Portfolio
Hotels
Restaurants
Hospitals
There are some famous website which are built by WordPress:
The New York Times
Sony Music
Forbes
National Geographic, and many more
Why Choose WordPress Freelancer Pune?
Vicky Verma – WordPress Freelancer Pune provides custom development and total customization of WordPress themes based on individual business and website requirements at profitable price.
We are team of top freelance WordPress Designers in Pune which sets up WordPress, install theme of your choice and some recommended plugins.
Me and my best freelance wordpress developers develop WordPress themes from the scratch or customize any WordPress theme according to clients requirement.
Vicky Verma – WordPress Freelancer Pune and his team has worked on all major WordPress theme frameworks like Divi, woo-Commerce.
We are mainly focused on high quality of work in time to our clients and exact to their requirement which can be reflected from their feedback to us.
Me and my Expert WordPress Developers team can answer all of your questions regarding wordpress development. Please feel free to contact us for any type of requirement.
I also provide other services like E-Commerce Development,
PHP Web Applications, SEO Services, Graphic Designing Services. Feel free to contact me for any type of web development services
FAQ for WordPress Website Design & Development?
HIRE WORDPRESS FREELANCER PUNE
We are best Wordpress Developers in Pune, Get your website now!
RS 500pr/hr Only
---
Our Package Includes
Custom Themes and Plugins
Unlimited Pages, Blogs, of your choice
All important plugins like Yoast SEO, Forms, Security Plugins, Sharing etc. as per your need