About Me
Hello, I am Vicky Verma Freelance Web Developer and Designer in India. I am working as a freelance web designer and freelance web developer for more than 7+ years and also a freelance wordpress developer in India. I create simple yet elegant website design for my clients. I create websites that are fast, cost effective, beautiful, usable and SEO friendly. I use best practices and latest W3C web standards. I have created different types of websites like static website, dynamic website, ecommerce website, responsive websites and few Mobile applications.
Every Business needs a website to sell their services and products. Your website works as your salesperson. A good designed website generates niche traffic and creates new customers for your business. Your website should have potential to generate traffic to grow your business. In today's fast-paced corporate world, companies are more drifting toward freelance web developer/designer, rather than hiring employee(s) at work, which is logically ideal for the company's cost savings.
I have hands on experience in front end designing like HTML, CSS, JavaScript and backend development like PHP, C#, .NET, MySql and Java. I have been using open source CMS like WordPress, Joomla, Drupal, Prestashop for my website development as per client requirements.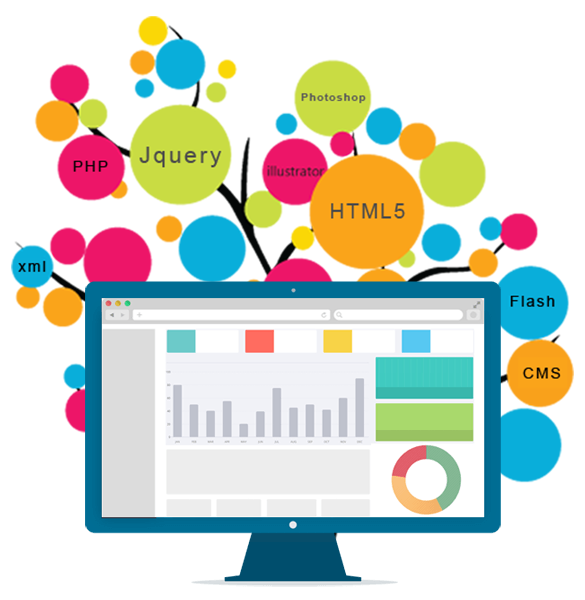 FREELANCE WEB DEVELOPER IN INDIA SERVICES
If you are looking for Expert Website Developer in India, you have reached correct destination. We provide all types of Website services in India and all over the globe.
WordPress Developement
Me with my team of top wordpress developers in India Design and Develope Website for Business and bloggers all over the world as per their needs and requirements.
THEMES & PLUGINS CUSTOMIZATION
Me and my best wordpress developers in India do 100% cusomization of both free and premium themes and plugins according to your requirement. We also create custom responsive themes as per different types of project requirements.
WORDPRESS HOSTING
If you are looking for a stable, secure and 100% uptime WordPress hosting for your website. Me and my Website developers in India team provide you with fully managed, dedicated hosting for wordpress platform with 5X faster speed.
---
ECOMMERCE DEVELOPEMENT
Me and my best Website developers in India provide fully customized ecommerce solution using Woocommerce Plugin along with the combination of best ecommerce plugins and addons in the market with multiple payment gateways.
BUDDYPRESS DEVELOPMENT
If you need social networking solution in your website. Me and my best wordpress developers in India customize and integrate buddypress plugin – it adds social networking power in your existing wordpress website.
WORDPRESS MULTISITE
Me and my wordpress developers in India team provide WordPress Multisite Solutions – It allows for creating a large Website network. It's a great solution for schools, colleges, universities and other educational institutes.
---
WordPress Migartion
Me and my wordpress developers in India team migrate your webiste and blog on wordpress. We also help bloggers to import and migrate from blogger, LiveJournal, Movable, Type, TypePad, Tumblr, and WordPress.com.
WEBSITE SEO Services
Me and my Website developers in India team develope SEO friendly Webpages. We use best SEO plugings like Yoast SEO and ALL in One SEO for search engine optimization of your wordpress website..
WORDPRESS MAINTENANCE
Me and my expert wordpress maintenance team assure you that your sites will always be running smoothly 24/7 – protected, updated, backuped and monitored. That's our promise.
FAQ for Graphic Design Services?
Yes, If client prefers I on work hourly basis too.
HIRE BEST WEBSITE DEVELOPER IN INDIA
Hire Vicky Verma WEBSITE DEVELOPER IN INDIA
$10/hour Only
---
Vicky Verma's Services Include
Wordpress Development
Custom Web Application Development
Graphic Design Services
Digital Marketing
SEO Services